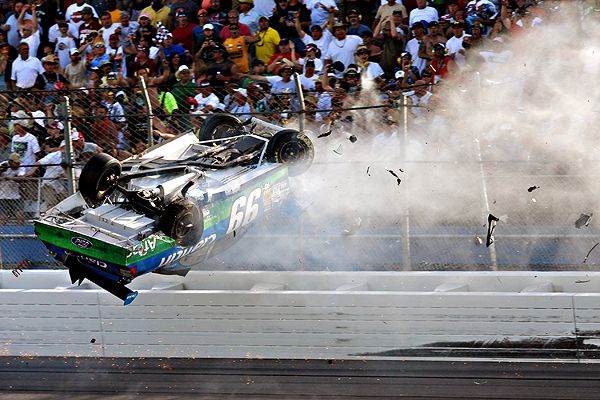 Yesterday's
NASCAR

race at

Talladega
ended in a spectacular crash on the last lap. Josh and I were watching the early parts of the race as his driver (Kyle Busch) and my driver (Denny Hamlin) took turns leading the race. We then took a trip to the mall for a
Build-a-Bear
excursion with the family and missed the end. I ended up taping it via the
ol
'
Slingbox
and watched the finish later last night.
On the last lap, unknown driver Brad
Keselowski
accidentally flipped the #99 car of Carl Edwards only a few yards from the finish line. Edwards went airborne and slammed hard into the catch fence that
NASCAR
installs precisely for these types of situations. If you view the video below you can see the fence buckle and notice that a few pieces of "shrapnel" careen into the stands. Edwards got out of the car and was not hurt and even pulled a Ricky Bobby from
Talledega

Nights
as he ran across the finish line (you have to be in your car to officially finish a race in
NASCAR
). Yesterday's crash really shows the dangerous and thrilling appeal of the sport. Memo to self: Don't buy tickets in the front few rows.