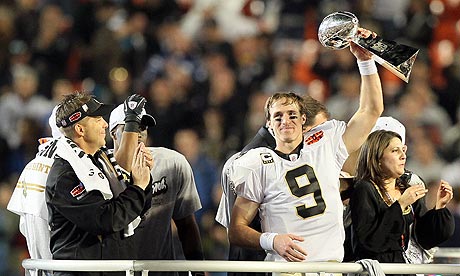 It took a matchup of two number one seeds that dominated the landscape of the NFL throughout the season, but after 27 years we finally have a new #1
most watched TV show of all-time
. The season finale of M*A*S*H in 1983 had been #1 with a total of 105.97 million viewers. Last night's game nudged ahead of that figure with 106.64 million to take the top spot. Viewership of the Super Bowl had been rising at a steady pace over the last 4 years, but this year's jump is the most significant in over a decade. You can attribute a lot of the increase in viewers to the Saints underdog story that captured the interest of non-football fans. It's good to see the Super Bowl back on top of the ratings list (even if there are far more people in the country that would be able to watch TV vs how many there were in 1983).
As for the game itself, I thoroughly enjoyed it as I was one of the few people in the country who thought the Saints would win the game. I wished I put a little more money on it, but winning my playoff fantasy football league (thanks to fielding a team of mostly Saints) was enough of a reward. Drew Brees played a great game, but if I had a vote I would have given the MVP trophy to coach Sean Payton for that great onside kick call to start the 2nd half.
Unfortunately, the commercials during the game mostly stunk and there was no sight of
Nannerpuss
this year as Dennys resorted to trotting out some un-funny chickens instead.