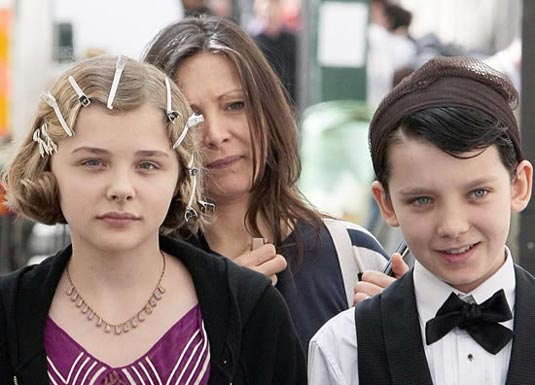 Martin Scorsese has had one of the most prolific directing careers in cinematic history. With a body of work that spans decades and generations he continues to crank out hit after hit and remains the master of the mob movie. Despite all the accolades (including the recent Best Direction and Best Picture Oscars for The Departed in 2006) Scorsese has never made a film that resonates with children. With
Hugo
(a re-telling of The Invention of Hugo Cabret, a 2007 novel), Scorsese tries to not only make a family movie but also grasp the mastery of 3D filmmaking. While he seems to have accomplished the latter, I cannot say that this movie is really a family-oriented masterpiece in any regard.
Scorsese employs a hodge-podge cast consisting of veteran talents like Sir Ben Kinglsey and Sacha Baron Cohen (who really is becoming more of a dramatic force in Hollywood) mixed-in with young up-and-coming stars like Chloe Grace Moretz and newcomer Asa Butterfield (Hugo Cabret) whipped up in a lush brilliant vivid landscape of a Paris train station. We follow young Hugo as he attempts to connect with his deceased father through a sequence of clues that were left behind after his death. As Hugo works with his new-found friend Isabelle (Moretz) to follow the clues and avoid the pursuit of the nosey station captain (Cohen) we are treated to a fantastic display of 3D mastery as Scorsese weaves the camera effortlessly in and out of the various pathways and passages of the train station.
Despite the precise execution of the three dimensional medium, the overall subject matter and the pace of the plot is extremely slow and not very appealing to kids (in my mind). The second half of the film focuses more on Kingley's character of Georges Melies, a pioneer in the film industry who directed the famous
A Trip to the Moon
silent movie during the advent of modern cinema. While the story of Hugo does a great job in chronicling film history and movie preservation efforts, it loses touch with the core of the film (Hugo himself) and completely switches gears in overall tone.
If Hugo was marketed as a historical lesson in cinematic history then I wouldn't have much of a problem with this film. Unfortunately all the ads and reviews skew it as a perfect family film, not mentioning the underlying context. Back in sophomore year of college, I took a film history class and learned all about the Lumiere Brothers and Melies. We even watched the 15-minute Trip to the Moon in class. Sitting in the theater watching Hugo with my son, I felt as if the lesson was forced upon me again. While it surely is interesting to know about the beginnings of filmmaking, I wasn't expecting to have it thrust into my son's mind at such a young age. Hugo is PG and I shouldn't expect it to be geared towards 7-year-olds but I'm sure that Josh was lost through much of the film. He claims to have liked it once it was over, but I wish I know more about Scorsese's plan going in. Anyone under 10 really won't be able to fully grasp the message of this movie.
Regardless of the sub-par story, the visuals are very good and almost worth the price of a 3D ticket. Overall though I have to give Hugo a disappointing 3 out of 5 JRs. Hopefully Scorsese has gotten this "family" bug out of his system and can return to making violent and engaging movies for the rest of us.