I've been a little busy lately seeing three movies in the past few weeks and I'm finally getting caught up on my reviews for each. Here are some quick-hitting reviews of three films that were better than average and conveniently
ALL
get 4 out of 5 JR ratings.
This is The End
is a hilarious tongue-in-cheek look at what would happen if the apocalypse hit in Hollywood. Written and Directed by Seth Rogen and Evan Goldberg (Superbad, Pineapple Express), this film brings together an all-star cast of comedic actors that are all playing themselves. Led by the killer six-man combo of Rogen, Jay Baruchel, James Franco, Craig Robinson, Jonah Hill and Danny McBride, a group of friends finds themselves trapped in Franco's L.A. home as literally all hell breaks loose outside.
The plot itself doesn't really matter here as it's all just a setup for some good old-fashioned R-rated humor between a group of actors that really do get along on-screen and off. McBride is the real star here as he brings the most "LOL" moments to the film. Baruchel is probably the weak link but the rest of the cast cameos (including a hilarious drug-induced Michael Cera, a surprisingly brash Emma Watson and Rihanna) pitch in to fill in the gaps. The heavenly end sequence sorta missed the mark for me but I was laughing an awful lot through the rest of the movie.
This is one of the funnier movies I've seen in some time. I would advise waiting for a rental though if you haven't seen it yet as none of the effects/action make use of the big screen movie format.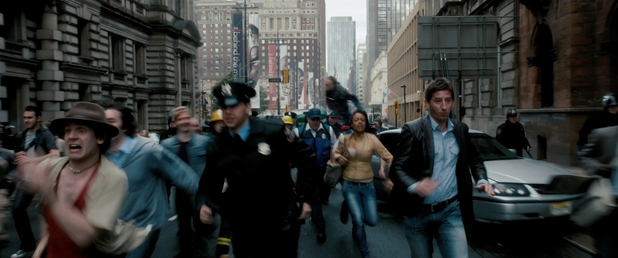 World War Z
is the anticipated movie adaptation of Max Brooks' (son of Mel) best-selling novel. Brad Pitt stars in and produces this much-maligned effort. There were stories of production issues and rewrites throughout the development of this movie. Director Marc Forster (Finding Neverland), managed to hold down the fort and produce a very entertaining film.
Pitt stars as Gerry Lane, a United Nations employee who is thrust into a global pandemic where a rapidly spreading virus is turning humans into fast-paced zombie creatures. Zombie hordes take over entire cities and send the world into total chaos forcing Lane to leave his family (his wife is played by Mireille Enos in a mostly throwaway role) behind in attempt to find out the source/cure of the disease. The action throughout is well paced and intense. We see scenes of total swarming infestation as Forster and company decide to buck the trend of normal zombie films by making most of his zombies run amuck with Usain Bolt speed. The frantic zombies slow down somewhat during the well-crafted third act of the film where we see Lane and his team attempt to infiltrate a medical facility that has been overrun by zombies. The restraint in which Forster achieves with his camera at the end of the film helps humanize the monsters we've seen throughout the movie. The ending also sets up a potential series of WWZ films that I would be interested in watching.
I very much enjoyed this movie and while not perfect, it presents a hodgepodge of elements from other zombie films that when spliced together form a thrilling visual feast. Don't waste your money on the 3D though. I had to see it in 3D due to showtimes that worked for me and I don't think it added anything at all.
The Way Way Back
is the latest comedic screenplay effort from Jim Rash (the writer of The Descendants and the actor portraying Dean Pelton in Community) who teams with Nat Faxon as first time directors. Chronicling a summer in the life of 14-year-old outcast Duncan (played by Liam James), the movie focuses on family dynamics between Duncan, his mother Pam (Toni Collette), her boyfriend Trent (Steve Carrell) and his daughter Steph (Zoe Levin) as they all embark on a beach trip together.
Duncan doesn't get along with his Trent and feels misplaced amongst a series of drunken nights the adults spend together (featuring solid side-performances from Rob Corddry, Amanda Peet and Allison Janney) and finds recluse in a both a nearby water park run by Owen (Sam Rockwell) and in the company of Janney's daughter (AnnaSophia Robb). Rash is able to weave in some real heart-to-heart dramatic sequences amongst the constant comedy in the film.
The acting throughout this movie is excellent especially with newcomer James who nails the portryal of an uncomfortably awkward teen. Robb is great in a supporting role as she grows out of her Violet Beuregard performance from Charlie and the Chocolate Factory. Carrell is great as always, this time playing more of a dick than a funny man. Collette once again adds some real levity to her role as a concerned and conflicted single mother. Despite all the previously mentioned star performances, the absolute gem of this movie lies in Sam Rockwell. He plays Owen perfectly as sort of a rebellious man-child who has come to terms with his fate of running a water park for the rest of his life. He seems to channel Bill Murray from Caddyshack at times and just comes across as a very likeable character. Rockwell is one of my favorite actors working today for sure.
The chemistry between Rockwell and James is spot-on and power the film. I would have liked to have seen a few more scenes that focus on the water park but overall there's not much to complain about here. You can probably wait for video on this one, but if you liked The Descendents at all, you'll feel right at home with Jim Rash and his unique brand of wit.
NOTE: My list of current favorite films of 2013 is updated (we're halfway done with the year already!?!?)