Here are two quick mini reviews for films I've seen over the past week.
Fury
is a WWII movie directed by David Ayer (End of Watch) that focuses on a team of tank soldiers in Nazi Germany towards the end of the war. Brad Pitt leads the rag-tag "band of brothers" that includes Shia Leboeuf, Michael Pena and The Walking Dead's Jon Bernthal through a series of missions that are beautifully filmed with stark action sequences that really beat it into your head that war is a terrible thing. All of the tank sequences are extremely well-directed by Ayer. You really feel like you're there in the claustrophobic metallic confines with the rest of the group.
I really enjoyed this film and feel it's one of the better post-Saving Private Ryan war movies. Pitt and all his brethren are competent actors but the one who really shines above them all is Logan Lerman (Percy Jackson from the movie series) who plays a young fresh-faced soldier who is thrust into a role he's not suited for. Watching the dynamic of Lerman and Pitt play off each other is an entertaining subplot to a gripping war saga. A solid 4 out of 5 JRs for Fury.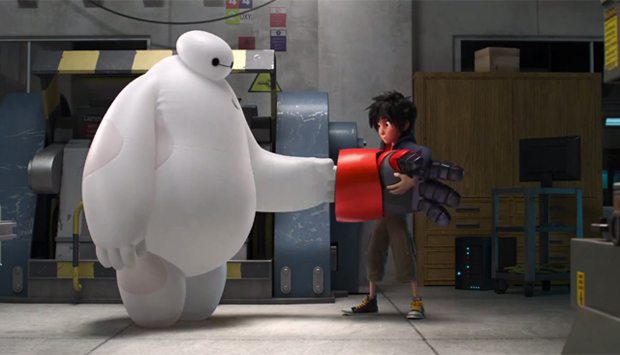 Big Hero 6
is the latest film to come out of Walt Disney Animation Studios (not to be confused with Pixar). The studio has already delivered such solid efforts as the ever-popular Frozen and 2012's Wreck-It Ralph. Big Hero 6 is a sci-fi adventure set in the fictional hybrid city of Sanfrantokyo (complete with pagoda-shaped support towers on the Golden Gate Bridge) that centers on Hiro Himada, a young genius who ends up applying to a prestigious tech (nerd) school in an attempt to follow in his older brother's footsteps. After an early disaster, Hiro and his band of friends form a super-hero group and enlist the help of a healthcare robot (Baymax) built by Hiro's brother to track down a formidable adversary. The plot of the movie is similar to other superhero movies but the laugh and heart of this film is what carries it along.
All members of the super group of 6 have their own personalities and quirks and most of the humor throughout is spot-on, making it fun for both kids and adults. The highlight of the film is Baymax, one of the more memorable and "human" robots to grace the big screen. Baymax is slow, plodding but also lovable and very caring (he's programmed to help people after all). The interactions between him and Hiro as the boy genius tries to turn the white giant blob into a "fighting machine" are hilarious to watch. The movie also hands out real life lessons (which I tried to help sink in with my own kids), particularly that creativity breeds success and you should go out there and innovate to get somewhere in the world. The visuals of the film are great and represent the ongoing improvement in CGI graphics. The voice acting in the movie is well done and is highlighted by Silicon Valley's features a wacky T.J. Miller as the ambitious stoner-rich-kid Fred. This is a film that everyone will enjoy and ranks right up there with The Lego Movie as the most fun time I've had in the theater this year. An excellent 4.5 out of 5 JRs for Big Hero 6, a movie that is likely to lead to a Big Hero 7 in the near future.